PRN® Omega-3 Essentials High Potency Liquid
PRN® OMEGA-3 ESSENTIALS HIGH POTENCY LIQUID
PRN Physician Recommended Nutriceuticals® is the leading developer of specialty omega-3 products. Developed and endorsed by medical thought leaders, PRN® products are supported by clinical evidence and are unmatched in quality and purity. Omega Essentials High Potency Liquid is custom formulated with a high concentration of omega-3s. One teaspoon per day provides a 3:1 ratio of EPA/DHA in the triglyceride form, combined with Vitamin D3.
Omega-3 essential fatty acids are an important nutrient for growth and development throughout every life stage life* and must be obtained through diet or supplementation. Omega Essentials High Potency Liquid provides a cleaned and most absorbable form of omega-3s in a great-tasting, natural lemon/lime flavored liquid.
The right form and serving. One teaspoon per day provides a 3:1 ratio of EPA to DHA in its cleaned triglyceride form.
Easily digested. This product has no gelatin, enteric coating or capsule so it provides direct absorption and easy digestion of the active Omega-3s.
Great taste. Omega Essentials High Potency Liquid has a great-tasting lemon/lime flavor.
Third party tested for purity and safety.  PRN products are manufactured in Norway in certified facilities. Every batch is third-party tested to ensure quality and purity standards. Our proprietary molecular distillation process guarantees the removal of significantly more PCBs (known carcinogens) than non-distilled Omega-3 products commonly found over the counter.
Recommended by top physicians. PRN products are recommended and used by thousands of top physicians in the country.
How it works
Omega-3 deficient glands become inflamed and clogged which accelerates tear evaporation and dryness due to missing oil.
After an initial 90 days of proper Omega-3 nutrition, followed by long term use, healthy tear film is restored along with normalized oil glands.
Dry Eye and Omega-3's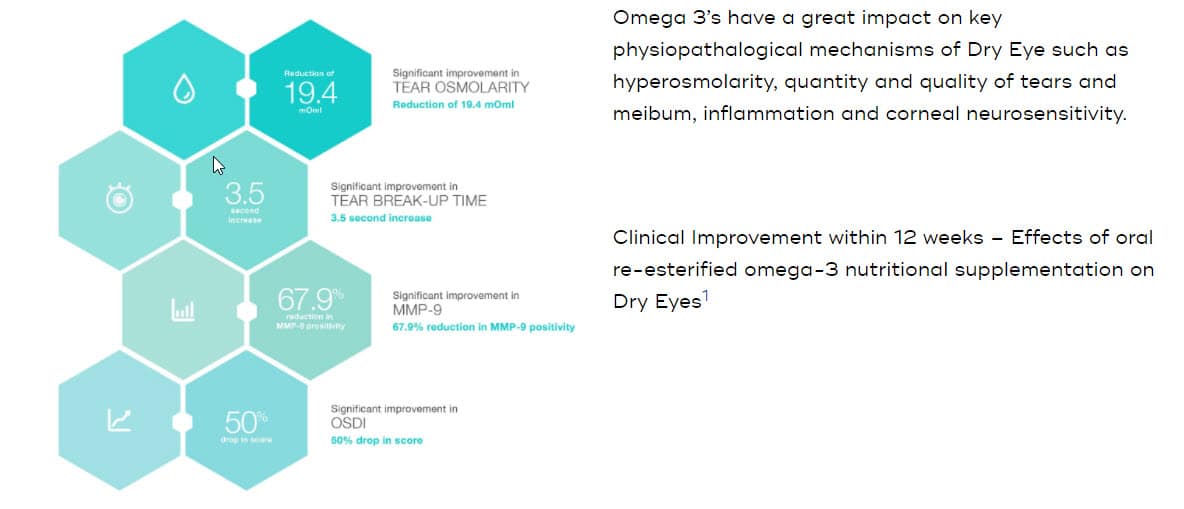 Disclaimer:
Warnings Do not use if security seal is damaged or missing or tamper evident cap is damaged. Do not use if package has been opened or damaged.
Frequently Asked Questions
Q: Why can't I buy fish oil over the counter?
A:  Many store-bought omega-3s are in a synthetic (ester) or unpurified form, which is difficult to absorb and leaves a fishy odor/aftertaste. PRN Omega-3s are in an ultra-purified triglyceride (rTG) form, which is a similar form to a piece of fish, but without the impurities. This form is easier for your body to absorb and
micro-distilled to remove contaminants like PCBs, lead, mercury and more. PRN omega-3s are manufactured in a NSF® and cGMP facility.
Q: When will I see an effect?
A:  It will take about 60-90 days for the Omega-3s to become fully saturated on a cellular level and therefore, to notice a difference. You may not notice the
improvement taking place inside your body, but improvement can be measured by your doctor. 

Q: Are there any side effects when taking this product?
A: PRN Omega-3s are clinically tested, safe and effective. Your body will recognize it just as if you were eating a piece of fish.
Q: Why can't I just eat fish?
A:  The American Heart Association and the American Cardiology Association recommend 2-3 grams of omega-3s daily (EPA+DHA). Taking 3 soft gels of PRN
Omega-3s each day for a week is equivalent to eating 37 cans of tuna. Eating this much fish may cause an increased risk for mercury poisoning. Other fish that
can be purchased in the stores are mostly farm raised which have little Omega-3s or wild caught which are optimal but are contaminated with harmful PCBs,
dioxins, mercury, etc.
Q:  Why not Flaxseed?
A:   Flaxseed contains the plant source of Omega-3, also known as alpha-linolenic acid (ALA). This is less easy to absorb and less effective in the body. Marine
based Omega-3s have been shown to be more absorbable which provides a systemic benefit. Flaxseed oil will have little to no effect.*

Q:  I am a small person, why do I need the same amount of pills as a larger person?
A:  Body weight does not have a direct correlation on Omega-3 saturation. The amount of omega-6s within the diet is the competing factor for Omega-3 saturation.
These Omega-3s are in a purified triglyceride form — the same form you ingest when you eat fish.
Shipping & Returns
Free delivery to the store for pick up.
Please allow 1 to 2 days for fulfillment prior to the following shipping times:
Canada Post Priority: $14.99, 1 to 2 days
Returns: We accept returns for contact lenses and accessories, provided the boxes are unopened, unmarked, and unused.